I know this is not a food related post but I wanted to write about the Chanel Une Promenade instalation at Harrods. I'm a huge fan of Gabrielle 'Coco' Chanel. She's such an inspiration and her classic and timeless designs are truly a work of art. So when I had about the installation I was more than just excited. I read a few reviews and saw some pictures so I sort of knew what to expect. As soon as I arrived at Harrods I saw a black and White 'Chanel' flag on the roof!
And all the flags outside have been replaced with the black and White CC logo. This installation has been described as a stepping into an 'Alice in wonderland' experience, I definitely felt that before even stepping inside!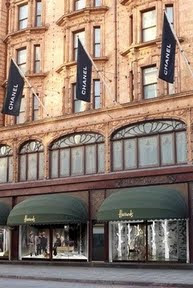 It's a Chanel takeover!
I went straight to the 3rd floor to see the 'rooms'. As we walked into a dark corner with a huge mirror draped with long strings of pearls, I nearly screamed. Staff handed us the installation guide, a beautiful guide in monochrome.
He then motioned for us to go through, but all I could see was a mirror draped with pearls not a door! Sensing our confusion, he said just go through those pearls. That was an 'OMG' moment! How cool! 'the symbolic curtain of White beads is a reference to the pearls that Gabrielle Chanel so adored'
Inside there are 7 different rooms, each designed to make you 'feel' like you are a part of the Chanel creative process. The first, a garden of camellia trees is animated by Jean Cocteau's film 'beauty and the beast', and everything around has been given the interlocking CC stamp including a few watering cans and spades! Around the garden are glass display cases of flowers in diamonds!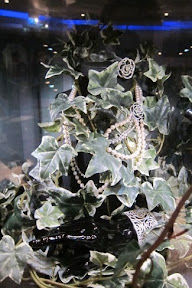 The next room, my second favourite a 2.55 factory, well sort of. The air-lock chamber is dedicated to the classic quilted leather handbag that was first created by Gabrielle in February 1955 hence the name 2.55. The chamber's Walls are lined the leather used to make the bag and display screens showing each step of the creation process, all workers wear silk White gloves to prevent any damage to the leather! The whole room is filled with sound effect of the workshop offering visitors 'sensory, mechanical and aesthetic take on one of CHANEL's most emblematic creations.
There's a children bedroom with figures of Coco and Karl Lagerfeld,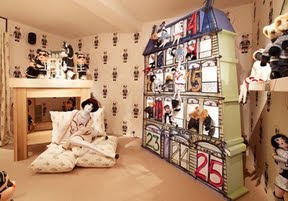 My number one favourite room, The Haute Couture reconstruction of Gabrielle's apartment at 31 rue cambon! For anyone who saw Coco before Chanel, you'll remember this room shown towards the end of the film when Coco sits on the stairs and watches clients and buyers reactions of her haute couture collection reflected on the tall mirrors and coromandel screens! There's a display of some of these beautiful dresses and the cases uses to deliver them to clients! It's magical!
Karl Lagerfeld's studio filled with books,
The tweed room pays homage to Chanel's fabric of choice, showcasing the famous tweed jackets. the Walls are lined with the fabric....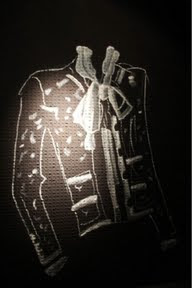 A giant 2.55 and a jacket display Chanel symbols and logos, the clover leaf, the lion head, the double C, number 5 perfume bottle......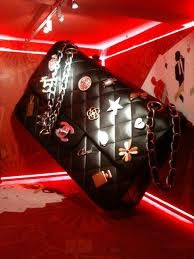 Another dedicated to Chanel No. 5 displaying a giant bottle playing images of Audrey Tatou perfume advert, a message in a bottle?
I want one of those canvas!!!
Karl and his team have created a masterpiece! I love this installation and can't wait to go again!
It's at Harrods till 27/09/201, go see it!
Location:London, Harrods Knightsbridge